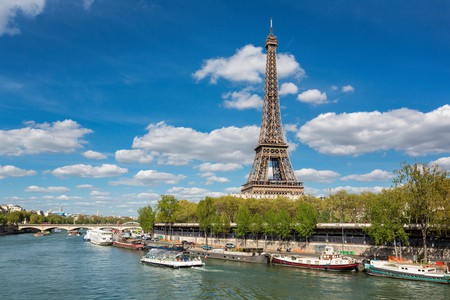 What can you see in Paris: For the last two decades the Marais (sandwiched between St-Paul and Republique) has been one of the trendiest parts of the city. It's packed with modish hotels, vintage boutiques, restaurants and bars – in no small part due to its popularity with the gay crowd (this is the only part of Paris where the blokes get winked at more than the ladies). But this is also prime territory for art lovers, with a vast concentration of galleries (both big and small) and museums, more often than not set in aristocratic 18th-century mansions.
Paris restaurant pick : Comice : The bulk of Paris's famed haute cuisine is fiscally out of reach for many. However the year-old Comice, headed by Canadian chef Noam Gedalof and sommelier Etheliya Hananova (the two are married), is an indulgence that won't completely melt your credit card. The look strikes a similar balance: elegant but relaxed, with striking arrangements from a renowned local florist. Hananova's wine list — which features lesser-known wines from around the world — is terrific, as is Gedalof's light, inventive contemporary French cooking. Try the duck foie gras with hazelnuts, strawberries, balsamic, and black pepper or the butter-poached lobster with sweet pea and mascarpone ravioli.
Sainte-Chapelle is rarely used for mass but often serves as a venue for music concerts. Listening to a choir or classical music performance in this space is an inspiring spiritual experience. Sainte-Chapelle is considered a rare jewel among medieval houses of worship and is certainly one of the most exquisite churches in Paris. This masterpiece of Rayonnant Gothic architecture was built from 1242 to 1248 for King Louis IX (Saint Louis) to house the precious relics he had acquired from the Byzantine Emperor. The altar displays a relic of the Crown of Thorns. The chapel is renowned for its breathtaking stained-glass windows, which give the sanctuary an iridescent glow and serene aura. (It's recommended to visit in the morning and especially on sunny days to appreciate the windows at their most brilliant.) The chapel has 15 stained-glass windows (covering 600 square meters) depicting over 1,000 scenes from the bible, both Old Testament and New Testament stories. The colors and light symbolize divinity and the Heavenly Jerusalem. Explore extra details at Paris travel blog 2020.
Paris shopping pick : Rue du Commerce We've named Rue du Commerce the Best Hidden Shopping Street in Paris for its excellent selection of popular brand shops, small boutiques and traditional Parisian charm. Located in the 15th arrondissement just a short stroll from the Eiffel Tower, this is where Parisians head when looking for the latest trends without the expensive price tags. There's something for everyone along Rue du Commerce with over 100 shops along the way! With limited traffic along the narrow one-way street, you can easily crisscross your way down the street hitting your favorite shops.
Commissioned by Napoleon III in 1860, the Palais Garnier Opera House was designed by Charles Garnier in an exuberant Baroque style. Garnier worked tirelessly on the project for over a decade, from 1862 to 1875. Today, the opulent monument is a symbol of Napoleon's Imperial regime. The facade features classical columns and eight sculptures representing allegorical figures: Poetry, Music, Idyll, Recitation, Song, Drama, and Dance. The loggia depicts busts of composers, including Rossini, Beethoven, and Mozart, while the cupola is topped with a statue of Apollo with allegorical figures of Poetry and Music. Upon entering the building, visitors are dazzled by the lavish 11,000-square-meter interior. Most of the building's space is dedicated to the grand foyer with its fabulous Grand Escalier, marble entrance staircase, adorned by ornate gilded lamps. Read more details on https://francetravelblog.com/.