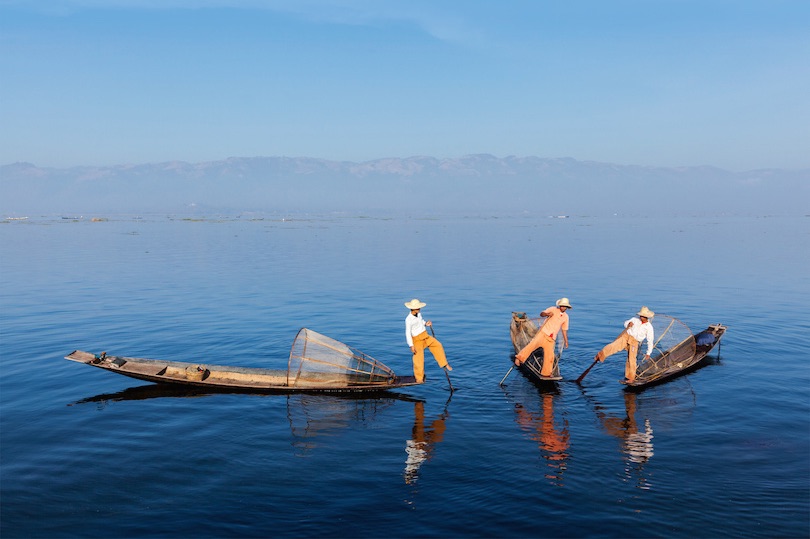 Beautiful Mediterranean yachting places and boat sailing tips 2021 by intersailclub.com? Providing fantastic sailing conditions and a comprehensive infrastructure, the Balearic Islands are an almost year-round yachting destination. With few strong currents and a minimal tidal influence of just 10cm, the changes in water level only occur with certain wind directions from the Scirocco and Levante. In the sea around the Balearics, the winds are mostly moderate, coming predominantly from the north in Mallorca and Menorca, while Ibiza and Formentera benefit from a lighter south-easterly breeze. In the spring and autumn, the Scirocco from the south or the Mistral are tempered by the Gulf of Lyon, which can bring heavier seas. Averaging around 300 sunny days a year, temperatures can rise to 40 degrees Celsius in peak season, yet in the winter the mild daily temperatures rarely drop below 15 degrees. Numerous sheltered bays, easy navigation and crystal-clear waters simply increase the draw of a sailing yacht charter in the Balearics. Adding to Mallorca's sailing appeal are numerous regattas throughout the year.
Cruising around the sparkling waters of Europe is one of the best ways that anyone could spend a holiday. We all dream about stopping on charming islands, exploring new port towns, cruising the beautiful waters, and living the dreamy yachting lifestyle. If you are planning on booking the best yacht holidays in Greece, or want to explore more of Europe, then be sure to check out some of these destinations. Chartering a yacht and sailing between these amazing places will result in one of the best holidays possible!
Sailing around Europe: It's safe to say, with its hugely diverse cultures and highly varied geography, that sailing around Europe is on innumerable bucket lists. The Greek islands will strike a chord with many, as each set of islands offer charterers something wholly unique. The Ionian on Greece's west coast is dotted with delightful villages including Kioni on Ithaca or Fiskardo on Kefalonia, while the Cyclades chain to the east boasts gorgeous islands such as Mykonos, Ios and the incredible Santorini. In nearby Turkey, Bodrum on the Gulf of Gokova sees keen sailors flock from all over the world, and for good reason. Here, they experience untouched coves on the water and invigorating nightlife and impressive restaurants on the coast. Those more interested in Croatia will find over 1,100 islands to explore, made all the easier with reliably gentle winds and a myriad of beautiful harbours. If Italy is more your style, the Aeolian Islands just off of Sicily provide considerable environmental variety, including the unforgettable black sands of Stromboli and the hot springs of the island of Vulcano.
The Best Time for Mediterranean Yacht Cruises? Summer is the best time to visit the Mediterranean, and it is definitely the high travel season in this part of Europe. The millions of people from all around the world flock to the Mediterranean's beaches during summer months for much-deserved summer break due to the region's pleasant climate. The summers in the Mediterranean are sunny and hot, and the sea is warm. However, the best time for Mediterranean yacht cruises is late spring (May-June) or early fall (September-October) when the temperatures and the sea are pleasurably warm, days are sunny, and the crowds in popular destinations are far fewer than in summer. Find extra info on https://intersailclub.com/blog/destinations/the-best-mediterranean-yacht-cruises-in-2021/. Thanks to our COVID-19 cancellation insurance, you don't have to stress whether your travel plans will be affected due to COVID-19. Here are some of the reasons why you should book your Mediterranean yacht cruise in 2021 with IntersailClub: Flexible ReschedulingIf you have to change your travel plans because you cannot get to your departure destination due to COVID-19 travel disruption, you can either: Receive a credit for the deposit paid, which you can use in the next 12 months or Reschedule your charter for alternative dates.
The type of charter contract applicable to your charter will depend on where in the world you are cruising, as there are various terms within the industry which dictate how the payment structure is determined. For instance, a MYBA (Worldwide Yachting Association, formerly known as Mediterranean Yacht Brokers Association) contract operates under Western Mediterranean Terms (WMT) and is arguably the most commonly used, particularly with large yachts embarking on a Mediterranean yacht charter. This contract is often referred to as a "plus all expenses" contract and requires that the charterer pay for fuel, food, beverages and dockage fees as an additional expense outside of the base charter fee. Typically, guests can accumulate an additional 25% to 50% of the base charter fee though this is dependent on what is consumed. These expenses can be tracked through the use of an Advance Provisioning Allowance (APA) which we will cover in the next section. Under Mediterranean Yacht Brokers Association (MYBA) charter contracts, which are arguably the most common, the charterer is charged for food and beverage (for the charter guests only), fuel, dockage and harbor fees, and miscellaneous expenses. As a round number, which depends on how much fuel the yacht uses and how fancy the meals and drinks, you can expect to add 25% to 50% of your charter cost.
Croatia is a travel destination that is definitely having a 'moment.' Hailed as everything from the 'new Greece' to the 'new Riviera', this part of Europe offers beautiful beaches and a traditional way of life. There are no fewer than 1185 islands along the crystalline Adriatic coast, and one of the best ways to explore them is by boat. Head off from the historic cities of Split and Dubrovnik and make sure you include the upmarket island of Hvar, timeless Vis island and the more remote islands of Kornati or Elafiti. Expect traditional fishing villages, beautiful sun-soaked beaches and a plethora of attractive hidden coves.
And remember, before or after staying in Ibiza, take the chance and spare some days for a visit to Spain's mainland cities. Ibiza offers several daily flight connections with Madrid and Barcelona, just 40min away from the latest. Bachelors and singles will enjoy big city life, with good nightlife, shopping, restaurants and fun experiences. Couples and honeymooners may like to extend the trip and immerse in Spanish culture and heritage. Start with Barcelona and continue afterwards to the south, where charming Andalusian cities are waiting with incredible monuments and cosy old towns. Madrid can be the departure city, easily connected from Sevilla, Córdoba and Málaga by fast train. Families may prefer to extend the stay in the fantastic beach resorts and end with a short visit to main capitals before heading back home. Cala Saladeta is one of the many stretches of sand on Ibiza that proves size isn't everything when it comes to beaches. Small and beautiful, this is one of the most popular beaches on the island amongst both tourists and locals – and after just a few minutes here, you'll understand why. Saladeta's perfectly transparent waters give a whole new sense to the word turquoise and are shallow and calm as well, making it a great beach for a family day out (arrive early to claim your space, though).
Sailing tip of the day: When I was looking to buy a used boat a few years back, I was horrified at the state of many of the yachts I came across. Do people try to sell their homes with a pile of rusty motor parts strewn around the front room or a heap of soaking bedding moldering in the master bedroom? Speaking with brokers about this, the better ones refuse to keep boats in slum condition on their books. Others, however, don't seem to care. Presentation matters if you want to get anywhere near your asking price. Even if you can't be fussed to have varnish looking like the hatch pictured above, at least spend a weekend tidying up. Buyers will think you seamanlike, and your boat will both have a flying start and shift every time in preference to that same model in the next berth offered by the Dumpsters' Union. Discover extra details at intersailclub.com.