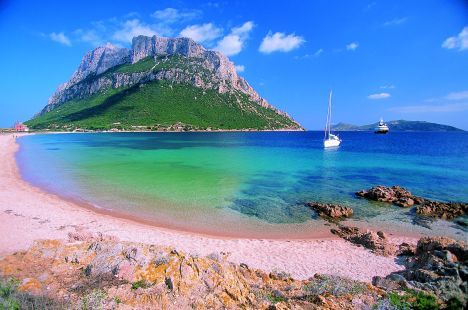 Fabulous Sardinia, a must see for everyone. From the Medieval streets and tall bastions that rise above the waterfront in the island capital of Cagliari, it's only a few kilometers to the ruins of the ancient city of Nora, where Phoenicians, Carthaginians, and Romans had their trading posts. Head east from the city, and in minutes you can be sunning yourself on one of the fabled beaches that makes Sardinia one of Europe's favorite summer playgrounds.
The Gulf of Orosei, in central-eastern Sardinia is one of the most beautiful spot in Sardinia. Famous for the Bue Marino Caves, made of stalactites and stalagmites that reflects in the water giving us amazing trick of the light. There are some countries along the coast known for their gastronomic products, handicrafts and archaeological areas such as Tiscali and Serra Orrios, the karst area called Supramonte, the forests of Suttaterra and Ghivine on the sea slopes of Supramonte; the Cedrino river; the canyon of Su Gorroppu , the deepest one in Sardinia and one of the deepest in Europe, finally you can enjoy a spectacular seascape (Cala Mariolu, Cala Sisine, Cala Goloritz?, Cala Biriola, Cala Fuili, Cala Luna). Read more on Luxury Travel Tours Sardinia
There are more than a dozen giant's tombs scattered all over the island of Sardinia. They are massive and ancient Nuragic structures surrounded by mystery. A particularly well-preserved example is known as Sa domu 'e s'Orcu in dialect, which means 'the ogre's house', and is located near Cagliari. These magnificent stalactite and stalagmite formations are named after the Roman god of the sea, Neptune. To visit this grotto you can either walk single file down a long set of steps that begin at the top of the cliff, or take a short boat ride from the port of Alghero.
Sardinia is believed to have the most beautiful beaches in the entire Mediterranean Sea. Beaches like Cala Gonone, Li Coggi beach, or the touristic Costa Smeralda consistently appear in the top of 'The World's Best Beaches' lists of international magazines and travel websites. However, the most amazing beach is La Pelosa, near Stintino, at around 50 kilometers North of Alghero Airport. Usually, the small town of Stintino only has 1,200 inhabitants, but this number is a LOT higher during the summer when literally thousands of Sardinians and tourists visit these stunning beaches.