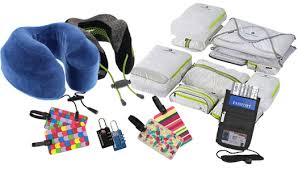 Have to visit a place and you need to buy some travel accessories, maybe an organizer or a travel bag? When choosing luggage it is nice to browse online on sites such as Amazon or maybe on the company's website to check what other people are saying about the product. However, take reviews with a grain of salt. Read them but understand that most reviews are left by people who are extremely upset over the product or individuals who are simply blown away by it.
Take note of the material the luggage is made from: When it comes to luggage there are two types of bags that are in the market- hard cover bags and soft cover bags. Leather is a material that can be used for soft cover bags. It is an excellent material to use because it is not that heavy but is extremely durable and can withstand years of wear. The downside to leather is that it can be prone to scratches and stains over time. Leather can also get expensive so other luggage companies offer more affordable solutions in the form of nylon or ballistic nylon. Ballistic nylon is a tough and sturdy material- best for wear and tear-however the luggage made not look as "handsome" as leather luggage does. Nevertheless, is a rare occasion for ballistic nylon to be torn or worn through which is why it is a wise choice.
As a general rule, go for a carry-on no larger than 45 inches (length plus width plus height) and a checked bag no larger than 62 inches (length plus width plus height), which are the standard for most major airlines in the U.S. Although you may want bring as large a bag as you can on the plane, remember that if you can't lift your carry-on bag above your head, you will not be able to place it in the overhead bin. Check your airline's website for information on what size bags you can check or bring onboard, and keep in mind that many airlines have different size requirements for international vs. domestic flights. More info at Buy Travel organizers online.
The brand of luggage you choose to buy is important since you may need to add to your collection as time goes on. It also makes a statement about you. Rather than having a ragtag collection of mismatched luggage tumble down the carousel, compatible pieces trumpet your sense of style. While there are many fine brands of luggage, Tumi is highly regarded by sophisticated travelers. Tumi holds more than 25 patents for design and engineering, and its bags are as durable as they are good-looking. They all feature Tumi's Tracer product identification system, which helps in reuniting lost or stolen bags and owners.
While your pack does not need to be 100% waterproof (that is unless you are going on some long multi-day hike), make sure your bag is made out of a semi-waterproof material so everything doesn't get wet in a drizzle (most travel backpacks come with tarps you can put over them in case of a severe downpour). Moreover, make sure the material won't stay wet long and thereby get musty. I look for material that is thick but lightweight. Treated nylon fiber is really good. You should be able to pour a cup of water over it without the insides getting wet. I'm not traveling a lot during torrential downpours or monsoons, but I have been caught in small rainstorms before, and because my backpack is made out of a good material, I've never opened my bag to find wet clothes.
It's important to remember that the bigger your backpack is, the less likely it is that you'll be able to carry it on the airplane. Additionally, since you can no longer bring liquids in containers larger than three ounces on airplanes if your bag has soap and liquids in it, you'll be forced to check the bag. Most baggage sizes are 45 linear inches (22 x 14 x 9 in) or 115 centimeters (56 x 36 x 23 cm) including handles and wheels so if you get a backpack with those dimensions, you'll be able to carry on. You won't face any baggage fees from the major airlines for checking your bag when flying internationally. Budget airlines, on the other hand, charge a fee for checking a bag based on weight, so the more your bag weighs, the more you will have to pay to check it at the gate. Even though my bag fits in the overhead bin, I often have to check it when flying a budget airline. Multifunction travel bag online shopping at https://shopoffthemap.com/.
Must have travel accessories : Headphones are an universal sign that you should shut up and leave me alone but in a nice passive aggressive way. Now: Some people tell you that you need a super fancy pair of noise-canceling headphones that do everything except make it rain, but I disagree.