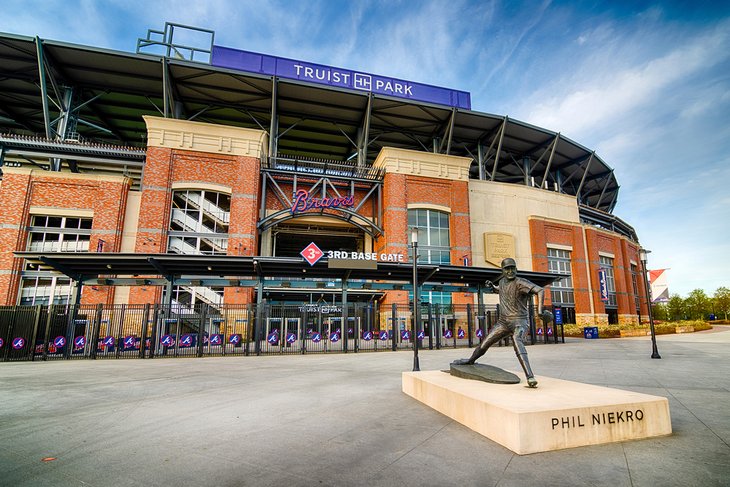 Premium vacation attractions in Atlanta: Two blocks on Auburn Avenue are now protected as a National Historic Site. They include the birthplace of the civil rights campaigner Martin Luther King Jr. at 501 Auburn Avenue, which dates from 1895; and the Ebenezer Baptist Church at 407-413 Auburn Avenue, in which he and his father were ministers. Free tours of Martin Luther King Jr.'s birth home are offered by the National Park Service. There are several other related places to visit within the historic site, too. Immediately adjoining it, in the Freedom Hall Complex, is King's grave. Between his birthplace and Ebenezer Baptist Church is Fire Station No. 6, which played a role in the life of the neighborhood and where volunteers tell stories of life here when King was growing up.
During Reconstruction Atlanta was a centre of federal government activities in the South. It was the site of the convention that drew up the Georgia constitution of 1868, and under the Republican state administration it became the state capital (chosen permanently by popular referendum in 1877). Atlanta came to epitomize the spirit of the "New South," having risen from the ashes of the Civil War and become an advocate of reconciliation with the North in order to restore business. This spirit was dramatized by three Atlanta expositions: the International Cotton (1881), the Piedmont (1887), and the Cotton States and International (1895). At the last one, educator Booker T. Washington made his historic declaration (the Atlanta Compromise) urging African Americans to seek economic security before political or social equality with whites. See extra info at Atlanta minimum wage.
Walk in the footsteps of one of history's most important figures with a visit to the Martin Luther King, Jr. National Historical Park. Here you'll find the home where civil rights leader Martin Luther King, Jr. was born and raised. You can also head over to the Ebenezer Baptist Church, where King was once a pastor. Fire Station No. 6 offers insights into the desegregation of Atlanta's Fire Department. And at the Visitor Center, you'll find engaging exhibits on the civil rights movement and the D.R.E.A.M. Gallery, featuring additional exhibits. Next door to Ebenezer Baptist Church stands the Martin Luther King, Jr. Center for Nonviolent Change. It has even more exhibits, as well as the tombs of King and his wife, Coretta Scott King.
A visit to Zoo Atlanta is another fun family activity to add to your travel itinerary. Founded in 1889, the zoo has, in recent years, undergone a major transformation that has seen it propelled to the top of lists of animal attractions in the USA. Also known as Atlanta Zoo, its central location in Grant Park makes it easy to get to, with the addition of new parking facilities making for a seamless visitor experience. Among its most popular exhibits are an African rainforest area complete with gorillas and monkeys. Other cute creatures include giant pandas in the Asian rainforest section, as well as an aviary, lemurs, and bears. A number of unique experiences are also offered. These include fun after-hours visits, safari camps, and guided tours. A behind-the-scenes animal encounter is also offered and lets you get up close to a variety of creatures in the zoo's care.
The NCCHR presents the civil rights movement and its Atlanta roots as a progressive and ongoing project. With three permanent exhibits representing the fight for equality both here in the U.S. and on a global scale, the institution has a clean, open-air layout and design. Neon signage is incorporated on segregation displays, bold colors capture the spirit of standing up for justice, and interactive portions salute activism in the face of danger. All these factors contribute to providing brutal but necessary honesty about how much work remains to be done.
Local farmers and artisans gather on Saturdays at the Green Market, where you may find everything from fresh peaches, handmade soaps, and smoked meats to biscuits, Irish pancakes, sheep cheese, and sheep milk caramel. Look for chef demonstrations every Saturday from 11am until noon. On Saturday mornings from April through November, at 11am, you can learn about the park's history on a free guided walking tour. And on the first Saturday of every month, Piedmont Park Conservancy partners with the Atlanta Audubon Society for bird walks that explore the park's many different habitats. The park also hosts various events, from musical entertainment to fitness programs. Discover more info at https://tipsntoesmn.com/.