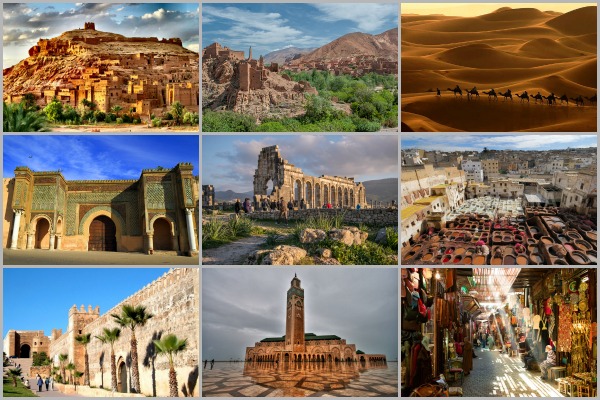 Top rated Morocco vacation destinations: We provide cultural Morocco tours to add authenticity to your travels during the Morocco Holidays. Therefore, we will introduce you to Moroccan culture in a way you have never experienced. Our private tours take you to significant locations such as imperial towns, historic Medinas, and Kasbahs. Additionally, they will take you to the Merzouga desert for a camel trekking excursion. You will have the opportunity to live a traditional and nomadic lifestyle. Discover more details on Morocco tour companies.
Another stunning place to visit in Morocco on your next visit is the Dades Valley. This valley runs between the Jebel Sarhro and High Altas mountain ranges and is frequently visited by Globetrotters as it offers spectacular views of the surrounding area. Don't forget to head to Todra Gorge for the best experience. This is amongst the best places to visit in Morocco.
The scenic Ourika Valley is popular with both locals and tourists. There are several walking routes through the valley, along the river, and in the mountains, though for many, the seven-level waterfalls are the highlight of a trip. Climbing the lower levels requires a bit of a scramble up rocks, but the track to the upper levels is less challenging. In addition to lovely views, visitors can also experience Berber life, go rafting, and take a dip in the refreshing water. Within the Middle Atlas Mountains, Ifrane is often referred to as the Switzerland of Morocco. The charming city, with its Swiss-style chalets, is a prime gateway to the nearby Ifrane National Park. Hiking opportunities through cedar forests abound, and you may spot Barbary macaques.
Hikers, trekkers, and general nature lovers shouldn't miss a journey into the raw landscapes of Morocco's Dades Valley. With the snow-capped peaks of the High Atlas in the distance, the big-sky country here is the perfect antidote for those who have been getting frazzled nerves amid the souks of Marrakesh and Fes. There are dinky villages galore; exceptional bird-spotting opportunities; great day-walk options; and views of lush fields and orchards trapped between the orange cliffs of the gorge, snaking out before you.
The Marrakesh Museum has an eclectic collection ranging from contemporary art to Qur'anic inscriptions, with local ceramic work, textiles, and coins thrown in for good measure. For most visitors, the real highlight of a visit here is the building in which the museum is housed. The Dar Me'nebhi was built in the early 20th century and was once home to a minister in Morocco's government. The architecture is a harmonious blend of local North African form with Portuguese elements, and features an extremely impressive central courtyard area complete with a lavish chandelier.
We will pick you up at 07:00 AM from your Riad or Hotel in Marrakech. Then, we will go to Ait Ben Haddou Kasbah driving through the well-known pass of Tichka -2260 m-. In Tichka, we will pause to take pictures ofthe scenic High Atlas Mountains peaks and charming Berber Villages. After the pictures break, we will arrive to Ait Ben Haddou Kasbah; it is a UNESCO site and a stage for many western movies. After Ait Ben Haddou, we will continue to Ouarzazate for visiting the Atlas Studio, Tifoultoute Kasbah and Taourirt Kasbah. Then we will go on to Agdez a beautiful village in the Draa valley. Finally, before sunset we will arrive to Zagora where you will get to enjoy a 2 hours camel ride to arrive to a Desert camp, where you will spend the night, and have a delicious dinner while listening to local Berber music rhythms.
In antiquity, Volubilis was an important Roman town situated near the westernmost border of Roman conquests in present day Morocco. It was the administrative center of the province Mauretania Tingitana. The fertile lands of the province produced many commodities such as grain and olive oil, which were exported to Rome, contributing to the province's wealth and prosperity. The Romans evacuated most of Morocco at the end of the 3rd century AD but people continued to live in Volubilis for many centuries. Find more info on https://topmoroccotravel.com/.